At Station_19_ML you have noticed that the open fronted storage bins are rotated 90 degrees and the removal sides are difficult for the assembly worker to reach.
Rotate the open fronted storage bins so that the material can be picked up more ergonomically.
In the 3D view or in the Material Zone Editor, find the left material surface of Station_19 and select shelf "C". This will highlight the two affected part numbers 17000021 and 17000022.
Now open the Material Provisioning Editor. You can learn more about the Material Provisioning Editor by clicking here.
Tip: If you already know the affected part numbers that you want to change, you can also filter for them in the Material Provisioning Editor via the Material column. Right-click on the line to open a menu in which you can zoom to the part number in 2D and 3D using the function "Navigate to provided Box-Group". This saves you searching in the layout.
Under the Delivery-Type tab, you have the option of changing the Z-rotation of the individual load carriers. Change the rotation here to 0 degrees instead of the previous 90 degrees.

Alternative:
Open the Rack Planogram.

Select the shelf in 3D to display it in the Rack Planogram. Click on one of the two part numbers in the Rack Planogram, then choose the green rotary arrow. Repeat the process for the second part number.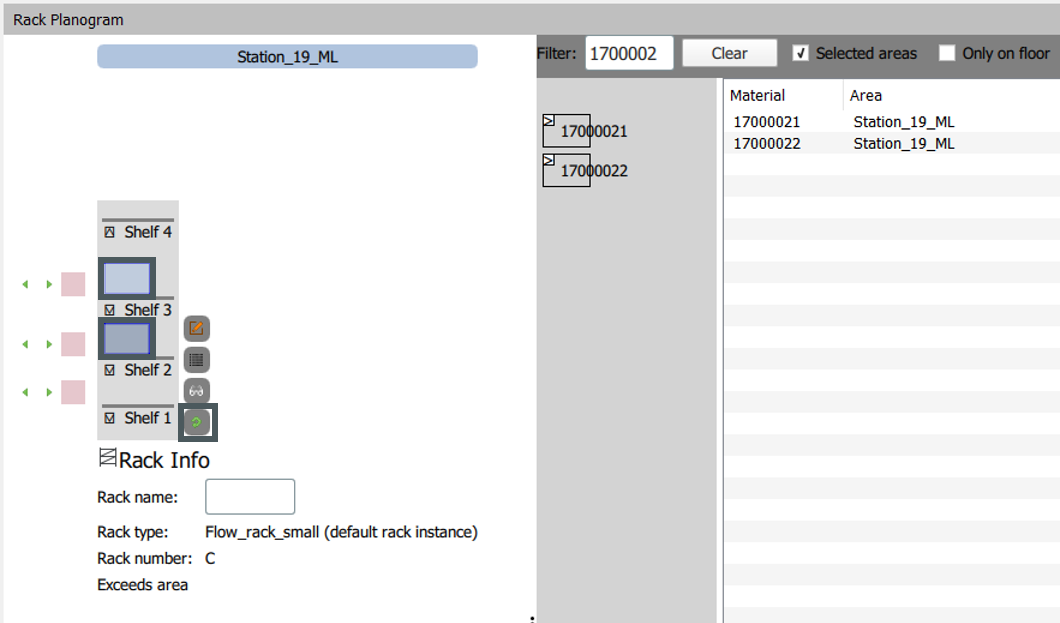 Save your progress.