1 Changes the zoom level.
2 Show only active product: If this option is checked, only the active product is shown.
3 recalc: Worker paths are reloaded.
4 Track current time: If this option is checked, the Worker Gantt moves synchronously to the animation.
5 Move Material With AVOs: The material is moved with the corresponding work step.
6 Auto-Recalculate: If this checkbox is set, the paths are recalculated for each process shift.
7 Move activities in other products: If this is activated, AVOs can be moved from one product to another.
8 Opens / closes the menu.
The meaning of the symbols:

1 OperationGroup: Process group
2 AssemblyOperation: Single Operation (AVO)
3 WalkOperation: Route to the next AVO or to material removal
4 PickOperation: Removal of materials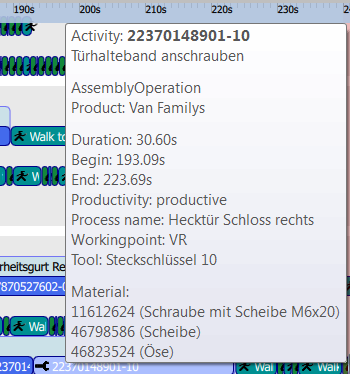 If the mouse pointer rests on a process group or AVO, a tooltip appears with information on the duration, the material used, the working point, etc.