Now that you have successfully built the layout, completed the transport route network, and defined the standard processes, you must ensure that all components are assigned to the correct SRCs.
To do this, use the decision tree feature in ipolog.

Tip:
Learn from the helpdesk how parts can be assigned to standard supply chains in the decision tree using various filter options.
In the existing model, your colleagues have already assigned all GLTs to the default supply chain "Stapler_via_Puffer" and the small parts from the rack storage to "KLT-Route_via_Regallager".
You now need to assign the parts that flow via pre-assembly and supermarket to the newly created supply chains.
In order to do that, select the property filter "Create standard supply chain" in the top right corner of the submodule.

Now you can sort the not yet assigned part families (1) under "Not assigned values" to the nodes ("Children"). Clicking a part family will assign it to the highlighted node (2). Clicking on the "+"-Symbol will create a new node (3).

The nodes correspond to the respective branches in the decision tree on the left side of the submodule. Since we have 4 default supply chains to which we want to assign the part families, we also need 4 nodes.
Commence to assign a part family to each of the nodes and confirm the selection by clicking on "Refresh" in the lower right corner of the submodule.

In the next step, you assign the corresponding default supply chains to the branches in the decision tree. This is done by selecting "SVK" on the respective nodes.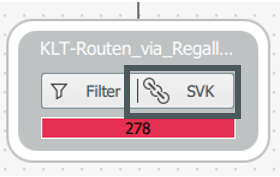 If a node is assigned to a default supply chain, its color changes to green. The first entry in the list of standard supply chains ("KLT-Routen_via_Regallager") is automatically assigned to each node . To adjust this, click the button again and select the default supply chain corresponding to the part family.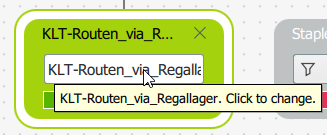 After repeating the process for all nodes, your default supply chains now have all the appropriate parts assigned.


Save your progress.