The report in the transportation simulation view illustrates the demand for means of transport over the selected analysis period. The resource requirements for tuggers and direct means of transport are viewed dynamically. This means that it is possible to make an exact statement for the required means of transport at any time in the analysis period.
The resources are differentiated between the individual resource types and the means of transport types - route or direct transport. Using the list on the left, you can show or hide the individual means of transport and the total requirement for means of transport types (1).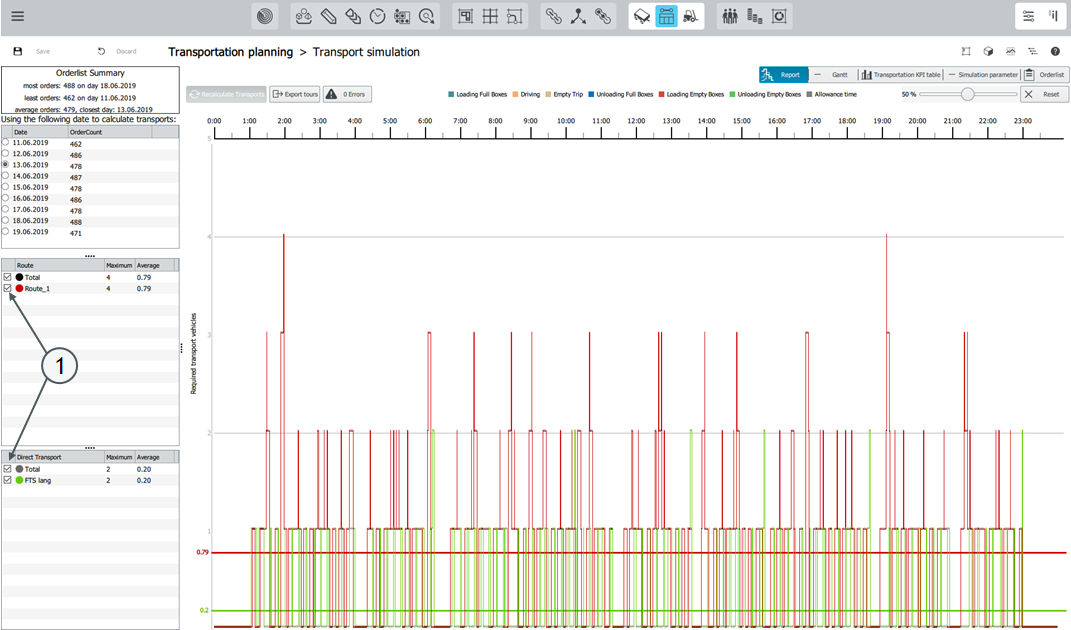 The number of means of transport types at each point in time is calculated from the sum of the required means of transport at this point in time, which are calculated using the route algorithm.
The maximum number of transport resources at any time or over the observation period can be tracked and checked using the Gantt tours or the KPI Transportation view, for example.
This would clarify the origin of the value of the maximum number of means of transport required.
The average is now calculated based on the time required for the transportation resource and the actual net working time contained in the assigned shift schedule for the transportation resource. The average is then calculated in the same way as the requirements in the KPI Transport Simulation evaluation.