The waypoint analysis lists all waypoints and stop points with their traffic volume and their assigned parts. The waypoint analysis can be called up via the transport simulation (see 1). The time currently set for the dynamic utilization is always considered here (information on the dynamic utilization can be found here).


Evaluation of traffic volume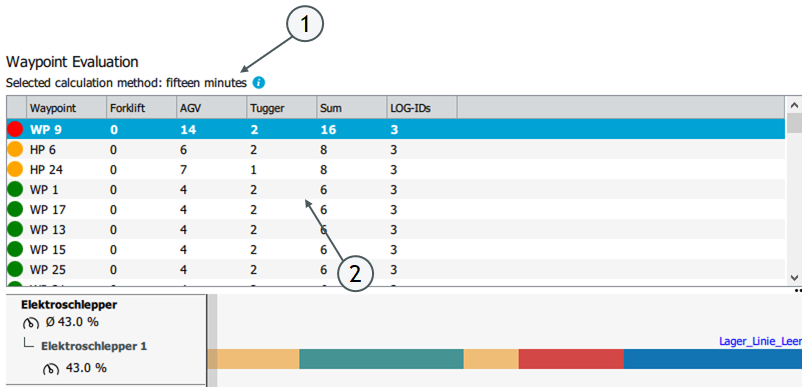 For each waypoint and stop point, the number of forklifts, AGVs and tuggers that run over the waypoint or stop point in this interval (see 1) is displayed for the set period (see 2). Sorting always takes place from the total maximum to the total minimum. The individual waypoints and stop points are highlighted in colour according to the settings for dynamic utilization. If a waypoint or stop point is selected, it is highlighted in color in the 2D view.
Evaluation of transported parts

Each waypoint and stop point evaluated on the left can be selected by clicking and is then evaluated on the basis of the parts transported over this point (see 1). For each part, the associated standard supply or standard disposal chain is displayed, as well as the number of means of transport required to transport that part. For each evaluated part, you can switch directly to the respective supply or disposal chain in the supply chain editor (see 2).