The Material Provisioning Editor contains a list of the information of all materials. This includes the description of the material, the assignment to container, rack and material area. Changes in material provision can easily be made in the Table Editor.
All changes are immediately displayed in the 3D view. The immediate visualization of the change makes it possible to identify potential difficulties immediately and thus improve them.

In addition to displaying and changing the individual material properties in the columns, the view offers various functions.
1 Sort: Click on the column name to sort the column. Another click reverses the sorting.
2 Filter: The small down arrow opens the filter menu. Different columns can be filtered in parallel.
3 Delete filter: All filter settings are reset.
4 Number of selected rows: Here you can see how many rows are currently selected.
5 show 3d labels: If there is a check mark in the box, the names of the boxes and racks are displayed in the 3D layout.
6 Text size: Use the up and down keys to adjust the font size of the table.
7 Hide columns: The columns of the individual areas can be hidden by clicking on the corresponding button. From left to right: operation details, box details, rack details, column visibility.


Further settings
For all materials marked in the table, further settings can be made in the Material Provisioning Editor.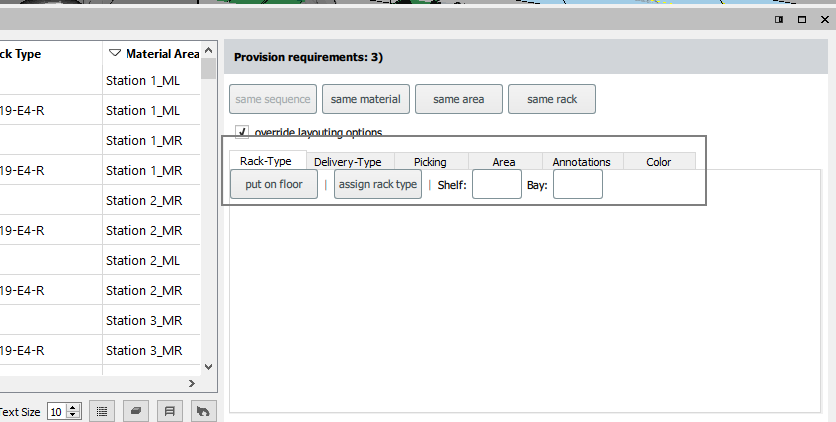 Rack type:
The Rack-Type tab can be used to assign a rack ( including its shelves and bays), as well as to move material from the rack to the floor.
Delivery-Type
The Delivery-Type tab can be used to assign the box type, the number of boxes, the box matrix, the rotation and a sequence.
Picking
Here pick points and pickgroups can be assigned.
Area
The Area tab can be used to assign material areas or to move material to the OC.
Annotations
Annotations can be saved here for all selected materials
Color
A color can be assigned to the containers here.
Multiple selection / modification
Several lines can be selected in the Table Editor by pressing and dragging with the left mouse button. Alternatively, lines can be added or removed from the current selection by simultaneously pressing CTRL when left-clicking on a line. With SHIFT and left click the range between two lines can be selected.
Alternatively, several surfaces, racks or load carriers can be selected in the 3D view with CTRL, so that they are also selected in the Table Editor.
If several rows are selected, they are automatically changed together when a property is changed in the Table Editor. This also applies to changes made with the Catalog.
Linked functions
3D view
If a rack or a box is selected via the 3D view, the selected material is visually highlighted / marked line by line in the Material Provisioning Editor.