The Logistics Quantity Framework (LQF) forms the basis for planning with ipolog 4 MF.
The import takes place in the sub-module "Logistics Quantity Framework Management" via the button marked with "1" in the screenshot.
At project start the table is empty.
After successful import, the columns should show all values of the imported Excel (as in the screenshot below).
Both part numbers and parts groupings can be represented in the logistics quantity framework.
should be noted, however, that column headings of the LQF in Excel must match those of the example LQF.
The next step is to save the imported LMG using the "Save" button. This is shown in step "2".

The button marked "3" in the screenshot provides information for checking the import. This case occurs if not all data could be successfully imported into ipolog.
If a LQF has already been imported and used in the software and a new LQF is imported, the user will receive the following dialog when saving: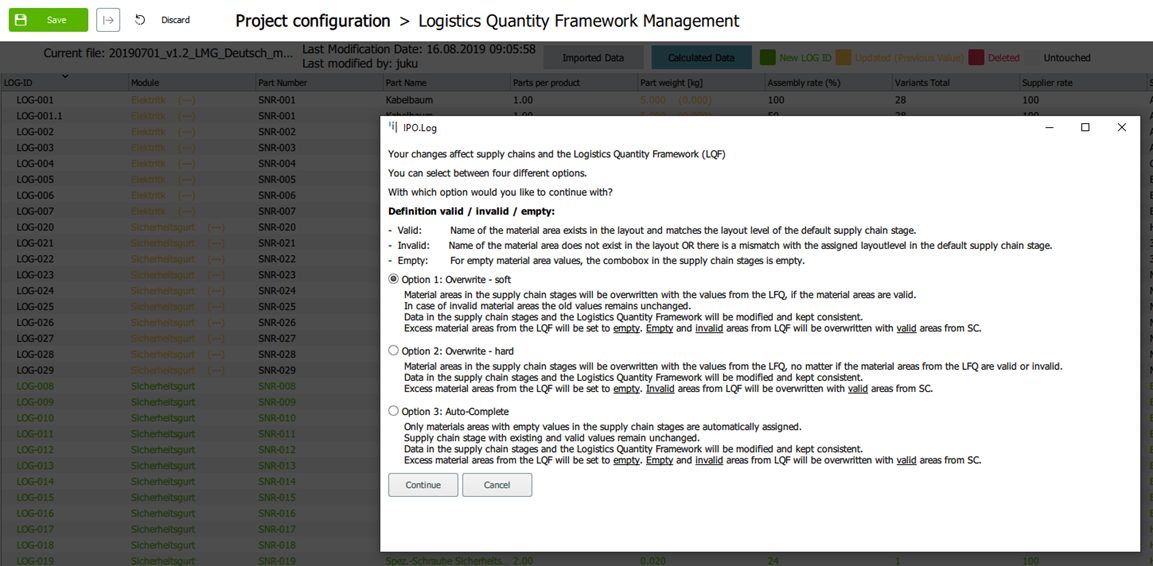 You can choose between three options:
Option 1: Soft overwrite: Material areas are overwritten into the supply chain stages if they are valid. If the values are invalid, the previous value remain unchanged.
Option 2: Overwrite hard: Material areas are overwritten in the stages of the supply chain with the value from the LQF, regardless of whether these values are valid or not.
Option 3: Auto-complete: Only material areas with empty values in the supply chain stages are automatically completed.
"Cancel" stops the saving process and closes the dialog window.
In the view of the logistic quantity framework there are three further buttons which make working with it easier:

| | |
| --- | --- |
| 4 | The columns Material area 10 - Material area 2 can be folded in and out |
| 5 | The Custom columns can be folded in and out |
| 6 | The tree structure, which can result from part groupings, can be collapsed here. |
| 7 | The tree structure, which can result from parts groupings, can be expanded here. |
Information on the structure of the logistics quantity framework, potential error messages and further information on the LQF can be found here.