In the area and volume report, areas and volumes can be viewed independently of their supply chain using KPIs. The respective material areas can be selected via the 2D layout (see 1).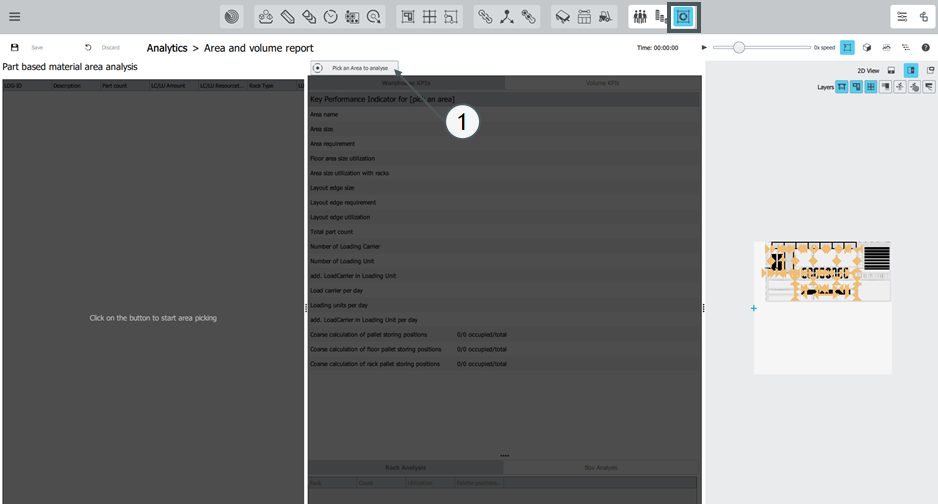 After selecting an area, a total of three reorts are displayed: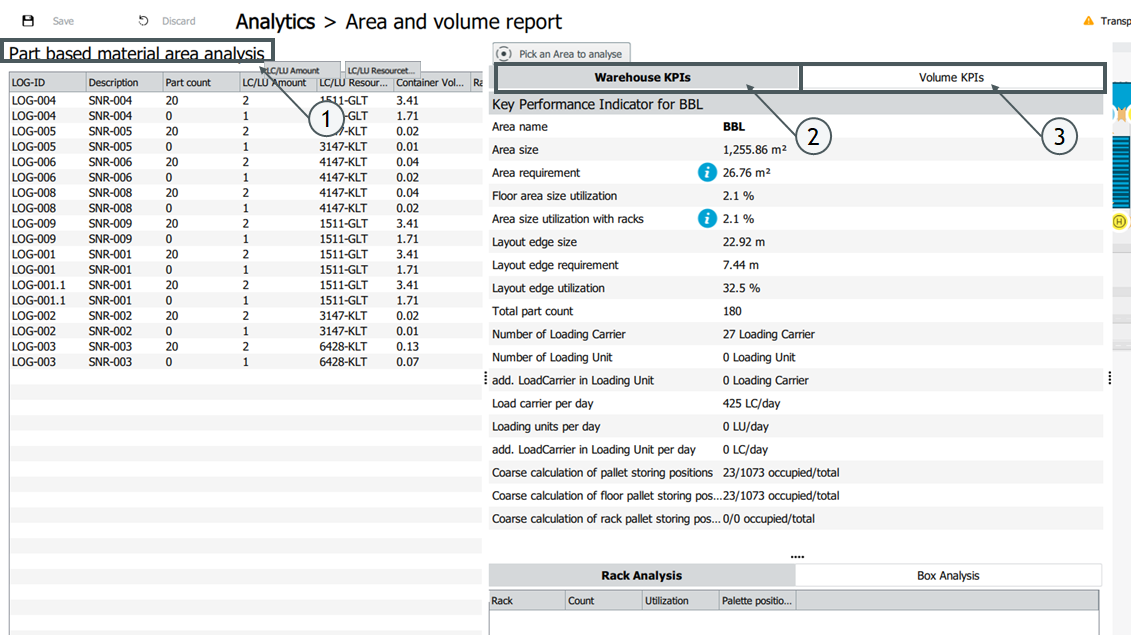 Part based material area analysis
In this overview all parts are displayed that are stored on the selected area. The containers stored on the area are evaluated here as well as the LT/LE quantities with the respective volumes and the volumes per day. In addition, the container volume on the area is displayed. The container volume on the area is also displayed if the number of parts is 0. This makes it visible what volume this box would occupy. Shelves placed on the area are also displayed. A concrete example is shown in the screenshot below:

Warehouse KPIs:
The warehouse KPIS show the utilisation of the floor area, the utilisation of the floor area including racks, if a rack is placed, and the utilisation of the layout edge. In addition, the LC/LU amounts on the area and per day are displayed as well as the occupied and total pallet storing positions (separated by rack and floor). A concrete example can be seen in the screenshot below. The racks placed on the selected area are analysed again separately under 1 (number of placed racks, utilization and occupancy of the pallet positions.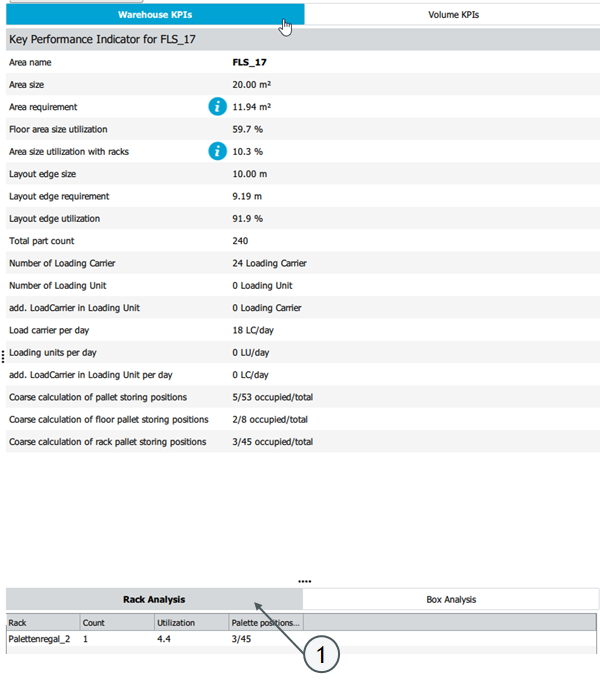 There is also a box analysis in which the container types are listed aggregated with their quantities, separated according to full containers and empties (see 2):

Volume KPIs
This evaluation shows the utilization of the different docks.
The displayed overview shows, which volumes and unloading time values are set for the respective type of delivery. Valid values are Milkrun, Shuttle, General Cargo, Tour, Rail Transport, Sea Container, Other. The respective values for the inbound delivery type of the individual LOG IDs are copied from the entries in the logistics quantity framework. The values "Volume per truck" and "unloading time per truck" can be set (see 1) and apply to all material areas. Default values are:
Volume per truck: 75 m²
Unloading time per truck: 30 min.
A shift plan can be selected globally for all docks (see 2).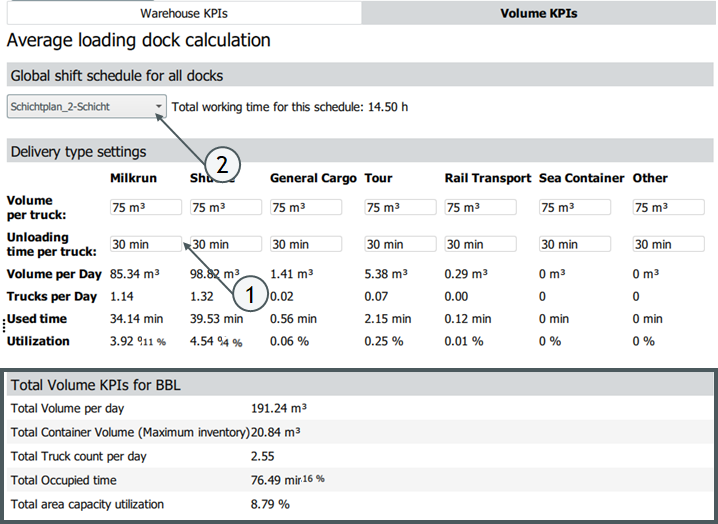 The volumes, the number of trucks, the occupied time and the area capacity utilisation for the individual delivery types are evaluated.
In the table below (marked in the screenshot), all values are summed up and displayed per area.
Basis of the number of load carriers in the 3D scene & report
ipolog evaluates all containers that are visible in the 3D scene in the area and volume report.
This is based on the container types from the default process chains.
The container "IN" is the container type that is placed in the 3D scene.
The calculations of the individual values can be read here.