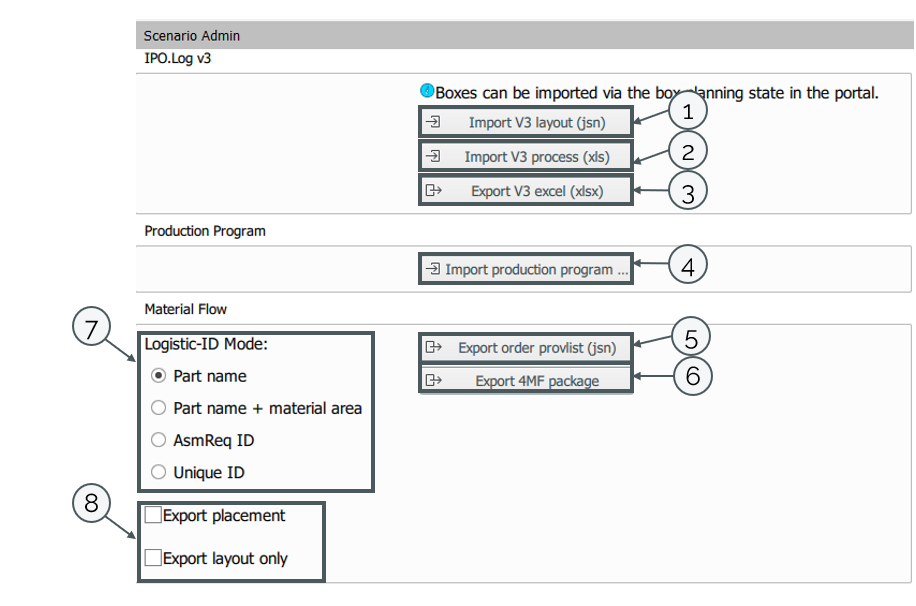 1

Here you can import the layout as a jsn file.

Important note:

the jsn. file must not contain umlauts
the path must not contain umlauts.

2
Here the processes can be imported as xls. The structure of the Montageexcel can be found here.
3
The Montageexcel can be exported as xlsx here.
4
The Production Program can be imported here. The production program must then be activated via "View -> Production program". Further information about the Production Program can be found here.
5
The provisioning requests can be exported here.
6
Here the ipolog 4MF package can be exported to import the data into ipolog 4MF. More information about the export of the deployment requirements can be found here. To export only the layout, more information is listed here.
7
Here you can decide how the provision requests (5) are to be exported. It should be noted that the Logistic-ID Mode must match the LOG-ID in the Logistic Quantity Structure. Further information on this can be found here.
8
Settings for the export of (6) can be made here. So the placement or only the layout can be exported.