Under Options, an Options window with different tabs opens.

Catalog Path: defines the library path of the actual project
Default Path: Defines a default library path to use when no project path is specified
A click on the three points loads a new library into the view. An Explorer menu opens in which you can select a library folder.
Clear Cache deletes the cache.

In this view, you define the distance between racks that applies to all racks. The number in Layout Rack Distance (m) determines the distance between each rack in meters.
The number in Layout Row Distance (m) determines the distance between the rows in meters.
The number in Layout Box Distance (m) determines the distance between the individual boxes in the rack in meters.

In this view, you determine whether the production model runs in takt-based or flow-based production. With the setting Linear, takt-based production is set, with Cycle, flow-based production.
The number in Cycle Time (s) indicates the takt time in seconds.
In Product Offset, the order of the product can be refined in meters.

In the register 3D-Display various settings for the 3D display can be made. If the check mark behind Visualize blocking projection is set, the actual blocking geometry is displayed. If the check mark behind Autofly To Selection is set, the automatic camera guidance is activated.
With Detail Display Range the graphical view can be adjusted. The lower the number, the less detailed the graphic display.
Under Shape Hints you can define settings for the 3D display.

If a network license is used, the local license server can be set here. For a local license, the IP address "127.0.0.1" must be entered.

In the Developer tab under Pathfinder Algorithm the operator paths can be changed by changing the algorithm. In the Scheduling Algorithm you can change the order of activities performed by a worker.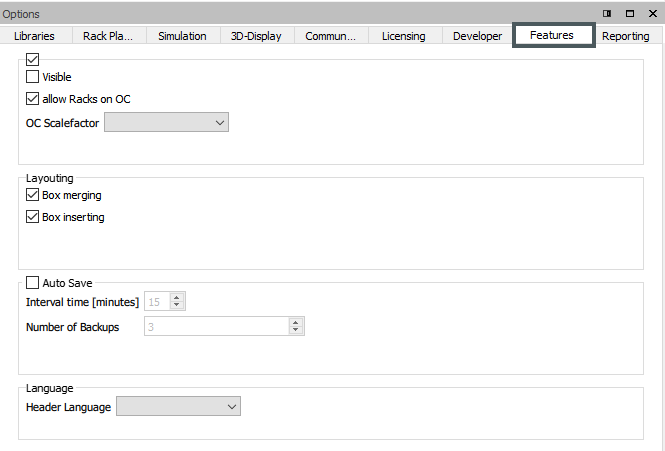 With the function visible the Outside Corner can be activated and shelves are allowed with allow Racks on OC.
The depth of the OC can be set in the OC Scalefactor.
In layouting the material is stored in a box by the activation of the box merging, material, which needs the same box, as well as have the same supply requirement, the material. This saves boxes.
By inserting a box, a shelf is used, so that the box fits in if the supply request allows this.
One function is the Auto save function. If it is activated, a backup copy of the program is created at the interval entered and stored in a separate folder in the Excel table. The backup consists of an Excel table, viewpoints and a layout file.
To avoid generating too many backups, old backups are overwritten. The number of backups can also be defined in the menu.
In the Header Language menu, you can select the language of the column caption, which is saved in the Excel file in addition to the German language.

Settings for the report can be made in the Reporting tab. Under Numeric component naming, the numbers of the boxes and shelves are displayed in the report instead of the whole name. If boxgroups in rack is activated, the boxes are stored in shelves. Otherwise the boxes are stored on the floor. By activating Consider GebindeW for Report, the retrieval requests are grouped. An individual logo can be added to the report under Report manufactuer Logo