Under Options, an Options window with different tabs opens.
Features: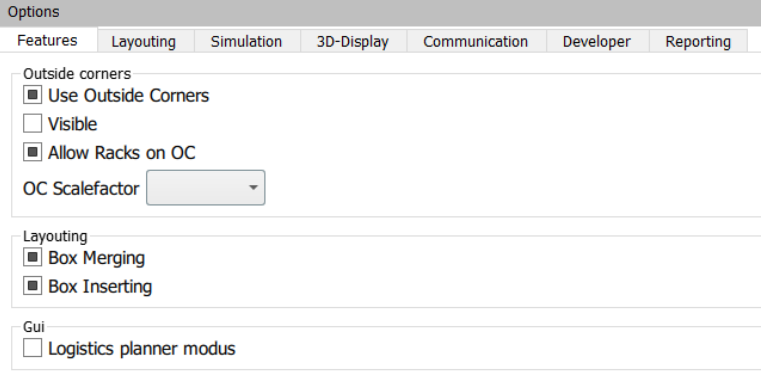 With the visible function the Outside Corner (OC) can be activated and racks are allowed with allow Racks on OC.
The depth of the OC can be defined in the OC Scalefactor.
In layouting, by enabling boxmerging, material that needs the same box, as well as having the same provisioning requirement, will be stored in one box. Thus boxes are saved.
By box inserting, a shelf is used so that the box fits in when the provisioning requirement allows it.
By activating the Logistics planner mode, the features in ipolog 4WS that logistics planners use most frequently are available. These are:
File Menu
Scenario Admin
Catalog
Facilities
Logging
Layout-Editot
Material-Zone-Editor
Production-Flow view
Rack Planogram
Material Provisioning Editor
TagList Editor
Selection Display
Colorizer
Layouting:

Different distances can be specified under Layouting.
Simulation:

The number in Cycle Time (s) indicates the cycle time in seconds.
3D-Display:

Diverse settings for the 3D display can be made in the 3D Display tab. If the check mark behind Visualize Blocking Projection is set, the actual blocking geometry is displayed. By setting the check mark behind Autofly To Selection, the automatic camera guidance is activated.
With Detail Display Range the graphical view can be adjusted. The lower the number, the more undetailed the graphic display.
Under Shape Hints you can define settings for the 3D display.
Reporting:

In the Reporting tab, settings for the report can be made. Under Name Components on Area numeric, the numbers of the boxes and racks are displayed in the report instead of the whole name. If show boxgroups in rack is activated, the boxes are stored in racks. Otherwise, the boxes are stored on the floor. Enabling Consider Exact Position for Area-Overlapping Racks will group the staging requests. A custom logo can be added to the report under Choose report manufacturer Logo.
In the Header Language menu, a the language of the column label can be selected, which is also saved out to the Excel file in addition to the German language.