You have successfully created all standard supply chains (SVK) and can now assign the corresponding part families to each SVK. To do this, open the next submodule with the title "Decision Tree".

The goal of this submodule is to identify all part families that belong to a standard supply chain and assign them accordingly. The imported LMG serves as the basis and with the help of a filter function identification is possible. The filter function can be used to select those columns of the LMG that lead to the identification of a particular parts group. It is possible to assign the parts groups to an SVK on the basis of their load carrier type. The column of the LMG can be selected and thus serve as a decision criterion for the assignment of certain LOG IDs to an SVK. A detailed step-by-step guide on how to create the decision tree can be found here.
As described in the previous task, the flow of goods can be divided into three SCCs on the basis of the LMG data. As mentioned above, it is also clear that with this granularity of the layout structure, the three SVKs each differ in material area 3.
| | | | | | | |
| --- | --- | --- | --- | --- | --- | --- |
| SSC | Material Area 4 | Material Area 3 | | | Material Area 2 | Material Area 1 |
| | IG | BlS | ShS | PC | SM | AL |
| 1 | X | X | | | X | X |
| 2 | X | | X | | X | X |
| 3 | X | | | X | X | X |
All LMG materials can be assigned to the three SVKs if material area 3 is selected as the decision criterion. To select this criterion, first activate the filter function: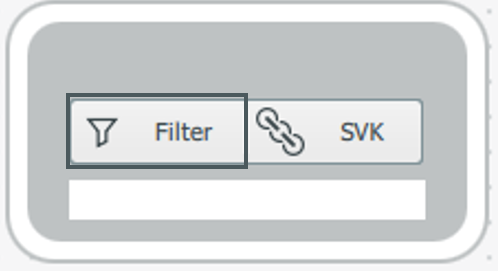 You can then select the attributes to be filtered from a dropdown menu in the upper right corner. As explained above, select the attribute "Material area 3" as the filter criterion. Now all values of the column "Material area 3" of the LMGs are displayed on the left side.
Add all entries that belong to the machining center, bulk storage, and rack storage to a standard supply process. To assign entries to another standard supply process, click on the "Plus" button to add another standard supply process and then select the corresponding entries.
When you are finished with the assignment, click the blue "OK" button in the lower righthand corner.
By clicking on "SVK" in the decision tree on the left-hand side of the screen and then selecting the appropriate SVK, you connect the standard supply process with the SVK you have created.

Note: In the planned example, it is possible to assign parts groups to a standard supply chain using a single filter criterion. However, the stored procedure also makes it possible to subdivide the parts (groups) of the LMG further with the help of filters and to define the corresponding standard supply chain by individual parts.