Welcome to the simulation game of ipolog 4 Material Flow.
As a new planning expert at Turbo AG you are now responsible for the planning of material flow. As a leading manufacturer of racecars, minibuses and tractors, logistics within the factory has moved into the focus of management. Your task is to map the current status of your planning factory in ipolog 4 Material Flow and then to identify and evaluate possible improvement potential.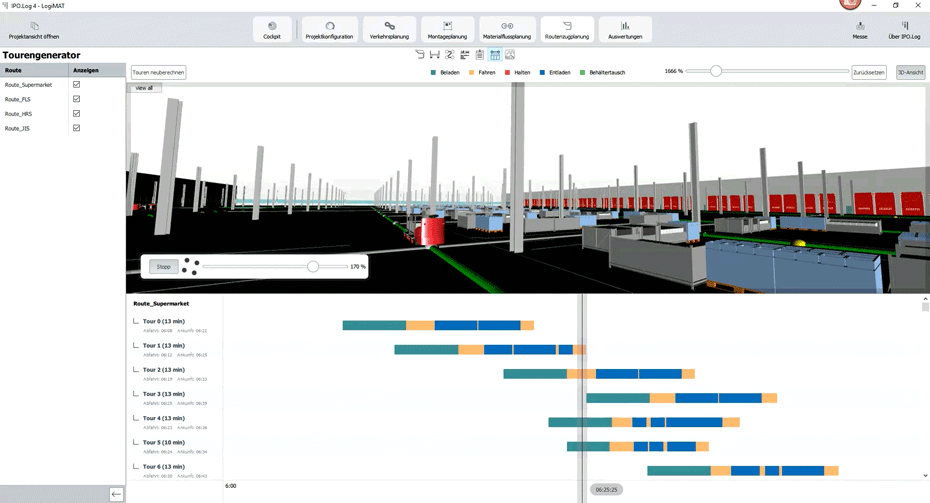 You have various resources at your disposal which you have already loaded into the software and validated together with your IPO.Plan consultant. All load carriers, shelves, worker types, tractors, trailers and direct means of transport that are used in your or another Turbo AG location are already imported.
You can also use a process construction kit with MTM times, which has been compiled from the time modules in your database.
All workers in the assembly hall work in 3-shift operation. The means of transport are available to them without restriction during the corresponding working hours.
During the preparation together with your IPO.Plan consultant, you also created and imported the data basis, the Logistics Quantity Structure (LMG). Information on load carriers, installation rates, etc. for each part number is recorded and stored here. In addition, your production program for the next day is already loaded and all supply requirements for the required parts have been created.
After a brief introduction to the structure and the basic operation of the software, you can take the planning into your own hands.
You will receive your ipolog access with all project data from your ipolog contact person.
Good Luck!
Note: The simulation is updated regularly. Due to our short release cycle it may happen that screenshots do not correspond to the current GUI. In addition, certain tasks are successively extended in order to integrate new functions into the simulation. We make every effort to keep it up to date so that you can use the most important functions no matter at what time you start the simulation.