It was noticed during quality control at Station_10 that both the checkbook and the operating instructions are often dirty. They need to be stored in boxes with different colors to prevent this from happening again. These boxes should then be placed on shelves.
First, choose a suitable box and then suitable shelving from the catalog.

In the Table Editor in Properties, in the Delivery-Type first, adjust the "Box Type" then raise the "Count" to 40.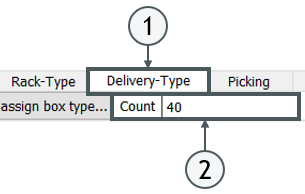 Afterwards, adjust the "assign rack type" to the desired shelf in the Rack-Type tab.


Use the Material-Zone Editor to optimally adjust the shelf.

Save your progress with the button in the upper right corner of the screen.