After starting the Software open up Project Management.
Choose the "workspace.ipo" file you got from the unzipped downloaded folder via load. Afterward, the scenario has to be loaded. For that choose load again and select "Planspiel".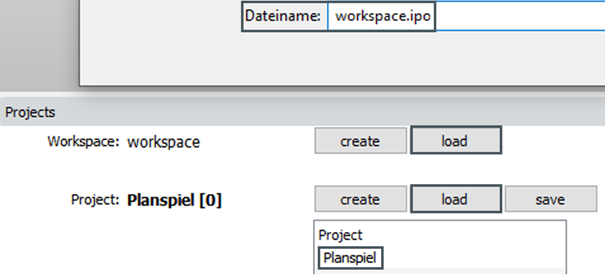 Make sure, that you select all Stations (indicated by the blue marking and the number 1) before you load the scenario.
Make sure, all of your Stations are marked blue (1) before loading (2).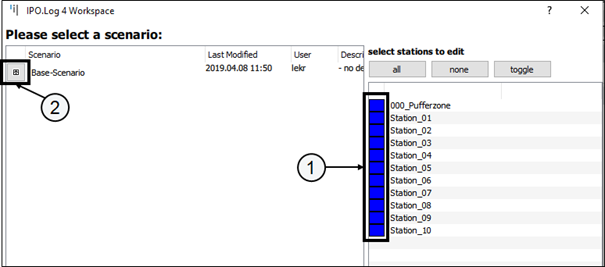 Now the 3D main view will appear on your screen.


For the navigation in the 3D View, the menu bar on the top left and the mouse are to be used.
The left mouse button is used to turn the View. With the mouse wheel, you are able to zoom in and out, holding it down enables you to move the layout. The right mouse button mirrors your last action.


From left to right: "View all" - centers your view on everything / "View from Top" - Birds-eye view / "View from Left" - Left view of the assembly line / "View from Right" - Right view of the assembly line.


From left to right: "Toggle Environment" - hiding hall, columns, streets/ Toggle Workers - Show or Hide Workers/ Toggle Material - Show or Hide Material/ Toggle Products - Show or Hide products/ "Toggle Workingspoints" - show or hide work points/ "Toggle Workingpoints Text" - Show or Hide Labels Work Items
To compare before and after results open the Reporting. In this report, the workload of the workers is visible and divided into value-adding work processes and non-value adding routes (for example, to fetch material or to walk to the next work point).
Here you can see that some operators are overloaded and some are not working at full capacity.
Get an overview of the initial situation.